Invitation to Holy Week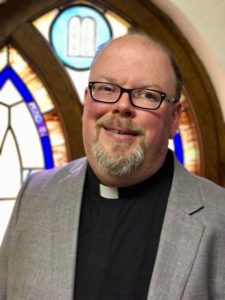 Dear Friends of Peace Lutheran Church,
I'm writing to invite you and your family into the mystery of what lies ahead of us this coming week. We call this week Holy Week – it is, that. The story of Jesus's entry into Jerusalem (where people cried out Hosanna, which means, "save us, rescue us, deliver us") is only the beginning. His final meal with his friends (while one of them leans into kiss him, which signals those who await arrest and take him away) sets the stage for us to learn something new about how love looks when it's in God's hands. On Good Friday, he hangs from the cross until he dies (while two thieves argue about who Jesus is and what he can do now, while his body begins to decay, his breath labored, his final words, "It is finished" are uttered.) His body is closed off behind a stone rolled against a tomb, and the tomb is guarded in case people would want to steal his body away. Then, a few days later, on an early Sunday morning, the stone is rolled away. Jesus is not in the tomb. Jesus is raised from the dead for us – and for the whole creation. We call this story holy, because it is.
But I've also wondered if we could describe this story as a mystery. Because, honestly, no one expected any of these things to happen. Jesus betrayed? Died? Buried? Raised? With each one of these realities before us, maybe we join the first disciples in disbelief and a little bit of worry. What's going to happen now are words of curiosity. Yet, beyond the what of Holy Week, there's also a how and a why. How: How are we going to get through this? How do we even make sense of what's happening? How will the future unfold now that everything we think we know has suddenly changed? And, why: Why was Jesus crucified, died, and buried? Why did Jesus have to die? These questions are important. They point us to something beyond our wisdom and understanding. Each sets the stage for something beyond our imaginations. Each one leaves us with more questions than answers. Each one makes space for us to encounter new life. The first disciples don't know this, at least not before Jesus is raised from the dead. All they know is that they haven't a clue as to what the future holds. It is, to be sure, a mystery.
I invite you to pay attention to the ways in which each element in the story of Jesus is revealed and resolved during this Holy Week. See each piece as a mystery. Put yourself among the first disciples and admit, as we all are invited, we don't necessarily know how or in what way the future will unfold. Shout Hosanna with the crowd. Gather close together around the table and receive the body and blood of Jesus given and shed for us. Grieve with the first disciples at Jesus's death. Enter into the surprise of resurrection. And then…and then…and then: see what happens.
As a congregation, we are facing a future that we know is coming, but we don't necessarily know how it will look or what it will mean for us. This, like the story of Jesus during Holy Week, is a mystery that is larger than we may be able to comprehend. Yet, we face this future with a real and present hope. For, God is with us at all stages and in all ways along our life together. Can we allow ourselves to be surprised and held close by God's grace and love that enfolds us? Can we allow ourselves to be empowered and equipped for what God has for us now and into the future? Can we trust that the God who calls us is the same God who raised Jesus from the dead? Can we live into the mystery of the ways God's grace invites us into a future with hope?
Come and join us. Come and be swept into the mystery of God's love and grace, for you and me and the whole creation. The world tells us the future is bleak. The Gospel of Jesus Christ says something mysteriously different. Come and see.
In Christ's Grace and Love,
Pastor Paul Lutter, Interim Pastor, Peace Lutheran Church