Faith In Daily LIfe - Diane Johnson
Diane says, "I am grateful to have a church community of friends that I love and have been a part of for so many years."
This month's featured member who is living her vocation is Diane Johnson,
who resides in Corcoran. She, her husband, Jeff, and their two children
(Brandon and Anne) joined Peace in 1981. Both Brandon and Anne were
confirmed at Peace, and both were also married at our church.
Diane grew up in Hopkins, Minnesota, and married her high school
sweetheart. She worked at the University of Minnesota hospital labs for
almost twenty-five years as a lab technician. In 1997 she left the hospital
and began working in the office of Jeff's plumbing business in Long Lake.
They enjoyed working together, and she loved having the flexibility to be
close to home and to her children. She has been retired for a few years
now, and her son-in-law is running the business.
Diane's mother was a very talented knitter, and she would knit beautiful
projects (that Diane says she still would not tackle). She also was a
seamstress and made a lot of the clothes that Diane and her sisters wore.
Diane inherited a love of knitting and sewing from her mother, and she
thinks of her often while knitting and sewing. "I wish I could show her my
projects," says Diane.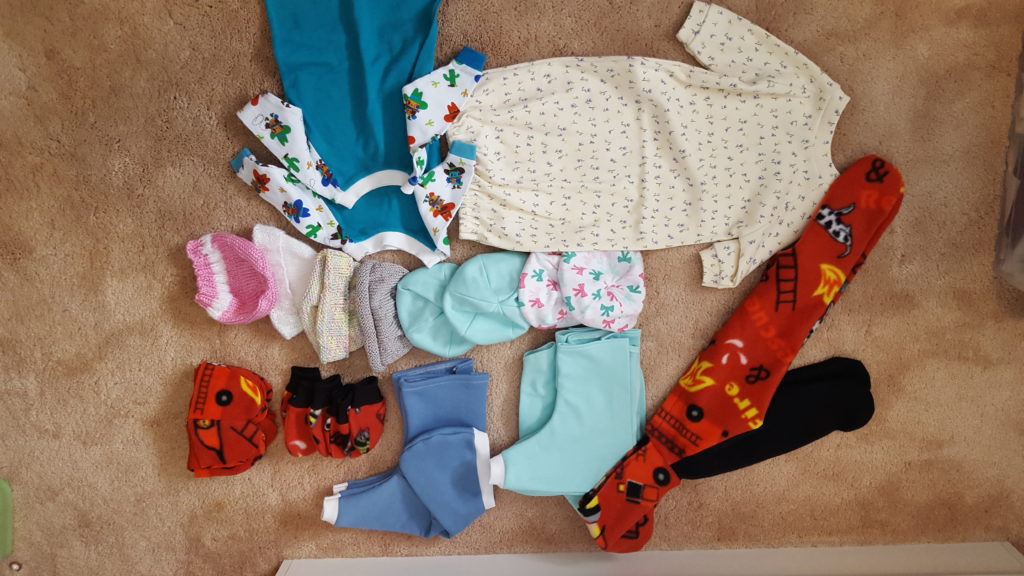 "Bundles of Love'' is a non-profit organization that delivers homemade
items to newborns in Minnesota where there is a need.

With Diane's skills as a knitter and seamstress, she gives her time and
talent for the "Bundles of Love'' charity in which Peace participates.
"Bundles of Love'' is a non-profit organization that delivers homemade
items to newborns in Minnesota where there is a need. Diane enjoys knitting caps and sewing clothes and accessories that go into a bundle of necessities for families short on essentials. Diane encourages others to become involved in this project by contacting Phyllis Bopp or herself. Until Covid-19 struck, the group met at church once per month. You can learn more about this organization at bundlesoflove.org.

Another project that Diane participates in is keeping the planters near the church doors filled with plants for each season (she does this with Peace member Suzanne Oxley). When Diane's husband, Jeff, passed away from cancer in 2011, a group of her church friends donated the planters in his memory. "This is a special labor of love for me," she says. We have all enjoyed the beauty of these planters as we enter the building – thank you, Diane and Suzanne!
Diane has served our congregation in many other ways as well: she has served on Peace's youth committee, she serves communion, sews quilt tops for Peace's quilting group, and has served on the church council as Treasurer. Like her mother, she has also knit baptismal and prayer shawls for Peace.
Diane says, "I am grateful to have a church community of friends that I love and have been a part of for so many years." Diane, we at Peace are grateful to have you as a part of our community. Thank you for sharing your talents not only with us but also with the recipients of your knitting and quilting projects!