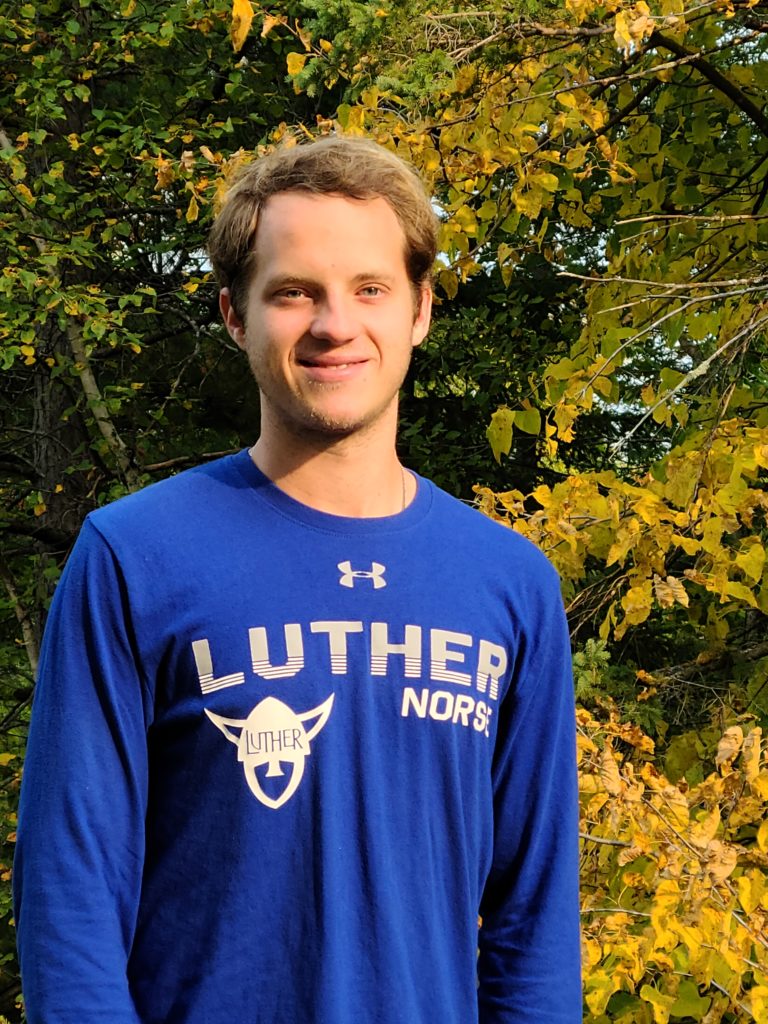 By Joni Sutton
"I believe sometimes we all get caught up in overthinking about the material world that we forget about what is truly important. Thinking about something larger than ourselves – nature or the environment – can realign us. My faith in God and the awe of this huge and beautiful place has always been able to re-center me when I feel overwhelmed."

Luke Forsberg
Building Community through the Environment At Peace Lutheran, we have had many conversations about how our faith leads us to be good and faithful stewards of the earth. One Peace member who knows how to
"walk the walk" when it comes to taking care of our planet is Luke Forsberg.
Luke has been a member of Peace for all of his 22 years. A recent graduate of Luther College holds a degree in Environmental Policy with a minor in Spanish. As a person who enjoys writing, one of Luke's career hopes is to work in environmental journalism.
He thinks it would be great if he could make a difference in people's lives and our planet's health by doing this. During his time at Luther, Luke was able to go on a J-term trip to Holden Village, a Lutheran Ecumenical Environmental Retreat Center in the Northern Cascade Mountains of Washington State. Holden Village is an old copper mining village that
has become a retreat center that values community and nature, with very little to no electronics use. "Without everyone on their cell phones, we got to know each other so much better through playing games and just having a lot of time for conversation, as well as amazing hikes and cross-country ski trips through the mountains."
When asked about his vocation's joys and challenges, Luke says that one of his greatest joys is witnessing community building through environmental work and being in nature. "Cleaning up a local park, picking up trash on the side of Highway 55 with other church members, or teaching young kids about nature as I did last summer as a Green Iowa AmeriCorps member was all done with other people who care about their community, each other, and the generations of the future."
Luke acknowledges that although we always hear that as Christians, we are supposed to be stewards of God's creation, this can feel like one of those sayings that has been used so much it has lost some of its meaning. He says, "I believe sometimes we all get caught up in overthinking about the material world that we forget about what is truly important. Thinking about something larger than ourselves – nature or the environment – can realign us. My faith in God and the awe of this huge and beautiful place has always been able to re-center me when I
feel overwhelmed."
Luke has enjoyed activities beyond his studies both at home and at college. He has been a part of the chimes/bells choirs at our church since middle school and continues to play in Peace's adult handbell choir as time allows. At Luther, he was able to perform musically with the Luther Ringers for three years. During his time at Luther, he was also a member of a group known as Song Paths, led by Luther alumnus Richard Bruxvoort Colligan (nephew to Peace member Ross Colligan). Song Paths was a group that talked about faith, life challenges, and how one's faith has helped the
group's members get through those challenges.
Luke shares that it has been wonderful growing up at Peace. He has loved the sense of community as well as the opportunities to be involved in Music. "Singing the Holden Evening Prayer at Holden brought back so many fond memories of Lenten worship services back home," he says. Your church family looks forward to seeing what life has in store for you next, Luke, and we appreciate all of the good work you are already doing for our planet!