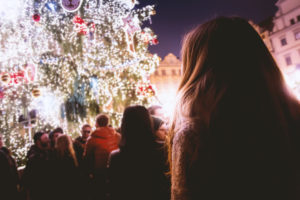 How many of you have heard or said with exasperation, "It's December!" …and really what a month: crowded calendars, last minute errands, special programs and everything else.  It is unlikely that First Century Christians could have imagined one tenth of one percent of what "preparing for Christmas" looks like for us today. I wonder if part of what our vocation as Christians, the way we can serve the world, is to stop, notice and point out joy? I invite you right now to take a few deep breathes and ponder joy.
Throughout history God's people have been joyful, we have hoped in the future that God is bringing about.  One of the gifts of reading the Bible is to see that God's peoples' joy isn't just based in happy circumstances, but it is an attitude God's people adopt because of their hope in God's love and promises.  In the midst of slavery, wilderness, exile and disruption God's people are filled with joy. 
That is us. Peace Lutheran is a place of joy—where we are honest about life's disruptions and we take a deep breath and like God's people before us we adopt a hope in God's love and promises.  We rejoice together. We sing together.  We serve living out all our vocations together.  We experience God's love and we participate in God's mission together.