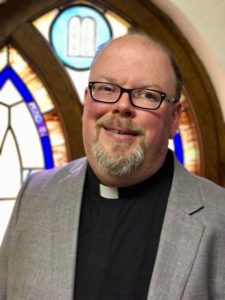 And suddenly, there was a great earthquake…. (Matthew 28:2a)
No one expected an earthquake or that the stone would be rolled away. Everyone and everything was shaken to their very core. They didn't remember sending an invitation to an angel of the Lord – still, an angel appeared; Matthew's gospel describes the angel's appearance to be "like lightning," and his clothes, "white as snow." (Matt. 28:3) The guards next to the tomb were so taken aback by what was happening before them that they were "…like dead men." (Matt. 28:4b) The women gathered at the tomb, with their arms heavy with grief and spices, to preserve Jesus' dead body. An angel met them and spoke into their numbness. "Do not be afraid; I know that you are looking for Jesus who was crucified." So far, what the angel said made sense. But this next sentence didn't. "He is not here; for he has been raised, as he said." (Matt. 28:6)
            An earthquake. A stone. An angel. Lightning. White snow. Deadman. Jesus' absence from the tomb. How are these things about new life? Nothing among them revealed resurrection. There was no immediate sign of hope set loose through them. Let's linger here for a moment. If I asked you what was happening among the ruins of these things, what would you imagine it all meant? Would their presence fill your heart with joy? Would they make you want to sing alleluias? Or would you, like those first witnesses to these things, leave yourself grief-stricken, or even a little traumatized? To add further complexity to this scene, it was not uncommon for graves to be robbed. On top of everything else, did Jesus' first followers now need to go look for his crucified body? I imagine that even the thought of doing this could have felt overwhelming.
            I wonder how overwhelmed you are right now. There are many things we face as a congregation. Many more things may also leave the arms and lives of your family heavy with grief. To look at any of them, to spread them out on a table or ground or in your heart, it's possible there's a profound sense of overwhelm at work among all of us. Maybe uncertainty has seized us. It would certainly be understandable if you felt either of these ways, whatever the reason. I would invite you to name those things: write them down and put them near where you pray. Look at them, but with eyes of grace. See what happens with you. See what happens in our life together as a congregation. The first disciples didn't immediately look at what was going on before them and recognize it to be a sign of real and present hope. The same could be said of us. How could anyone stare into the face of chaos, brokenness, fear, and uncertainty around them, with grace? It takes time.
            Jesus meets the disciples and offers a word of comfort. "Do not be afraid," Jesus said to them. (Matt. 28:10) Jesus comes each day and speaks these words to us. He promises to be with us no matter what we face. We may find ourselves dismayed because we can't find hope, or we can't find a sign of resurrection, or we can't find Jesus. We may not always realize it, but in everything, Jesus is right here with us. Sometimes, new life comes in a disguise; sometimes, Jesus is revealed among us in ways that leave us surprised. In this season, we can take heart:  Jesus knows all about complexity, brokenness, and death. Through his death on the cross, he destroyed the power of death. From a grave, he emerged to set loose the power of love, for us and for the sake of the world.
            In 2 Corinthians 12, the writer declares the grace of God is sufficient. I believe this. I'm often grateful that whenever the grace of God is proclaimed, I'm surprised by how good this news is. Maybe that's not clear enough. The grace given us in Easter isn't only good; it isn't only sufficient.
Grace is everything for us.
In Christ's love and service,