News / Events / What's happening…
On September 21, from 8am to 12pm the Connect-the-Drops™ training workshop
will allow the adult leaders to experience the curriculum, strategize together, and connect with other church leaders. Built into the training workshop are social media basics, green community
resources, faith & science discussion, STEM activities and the Connect-the-Drops™ environmental STEM education curriculum.
ASAP, please RSVP using this link to help us prep for food and activities:
Remember that clergy, youth directors, church staff, confirmation mentors, and lay leaders are welcome to attend.  Each person coming needs to complete the RSVP link above.  
CAREERS AT PEACE
Resumes for the Organist position are being accepted at careers@peaceofplymouth.org. A full job description can be found on the Peace website.
FAITHFULLY FIT
Tuesday mornings, 10:00-11:00AM
Schedule: September 5, 12, 26. October 3, 24, 31. November 7, 14, 21. December 5, 12, 19.
A gentle chair exercise program (includes warm-up, mild aerobic exercise, stretching, weights and balance exercises), offered weekly. The exercise is followed by a healthy snack, devotion, health education tip and fellowship.
HOSPITALITY TEAM
Join our team of people that have a heart for welcoming new faces to Peace. Sign up to learn more about our new Hospitality Ministry.
DOMINICAN REPUBLIC MISSION TRIP
October 21-28, 2017
Serve in the Dominican Republic!
Register at the Welcome Desk to receive more information on this trip, which Peace will help fundraise to cover expenses.
Here is for more information: DR Info Oct 21-28 2017
YOGADEVOTION
Want to do something good for your health?  Sign up for yoga!
Mondays- September 11, 18, 25. October 2, 16, 23, 30. November 6, 27. December 4, 11, 18.
Registration forms for fall will be available on Health Ministry bulletin board. Contact Sondra at 763-478-1027 or Sondra@peaceofplymouth.org for more information.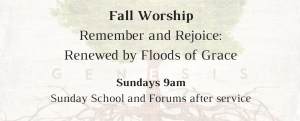 Fall Worship
 Remember and Rejoice: Renewed by Floods of Grace.
A Reformation liturgy- come celebrate with us as we revisit Martin Luther's teachings during the 500th anniversary celebration of the Reformation.
PRAYER SHAWL MINISTRY  
The Health Ministry could use more prayer shawls. Please drop one off in the church office with your name. They are so appreciated by our members who receive them!
PEACE AT PRAYER
If you would like to be on the Prayer Team and receive Peace at Prayer emails, please email sue@peaceofplymouth.org or complete the form on our website to be registered.
If you have a prayer request, please email peace@peaceofplymouth.org and your request will be shared with Pastor Kjell, the Parish Nurse Sondra, and the prayer team.