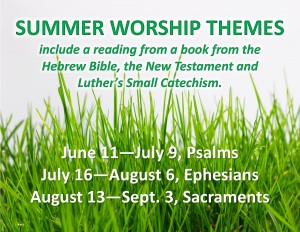 Summer Sermon Series   (June 4 – present)
Ephesians
The Apostle Paul's letter to the church in Ephesus reminds Christians they are saved by grace through faith and that we are to live toward our neighbors in a manner similar to the self-giving love that Christ practiced in his life and death.  The letter lifts up the importance of Christ's past actions in our present time and exhorts us to speak the truth in love.
July 16: Ephesians 1
Pastor Kjell Ferris | Read Sermon
Drinking Deeply from the Psalms
The Psalms were written not merely as poems, but as songs for singing. Psalms were originally hymns to be used for worship and so our worship series uses songs based on Psalms and the words of Psalms for our spoken liturgy.  New Testament references show that the earliest Christians used the Psalms in worship and Martin Luther based his famous hymn, A Mighty Fortress Is Our God, on Psalm 46.  As well as being popular for worship the Psalms are widely used for private devotions.
July 9: Psalm 150
Pastor Kjell Ferris | Read Sermon
July 2: Psalm 
Pastor Kjell Ferris |
June 25: Psalm 23
Pastor Kjell Ferris | Read Sermon
June 18: Psalm 
Pastor Kjell Ferris |
June 11: Psalm 100
Pastor Kjell Ferris | Read Sermon
June 4: Pentecost Sunday
Pastor Emily Meyer